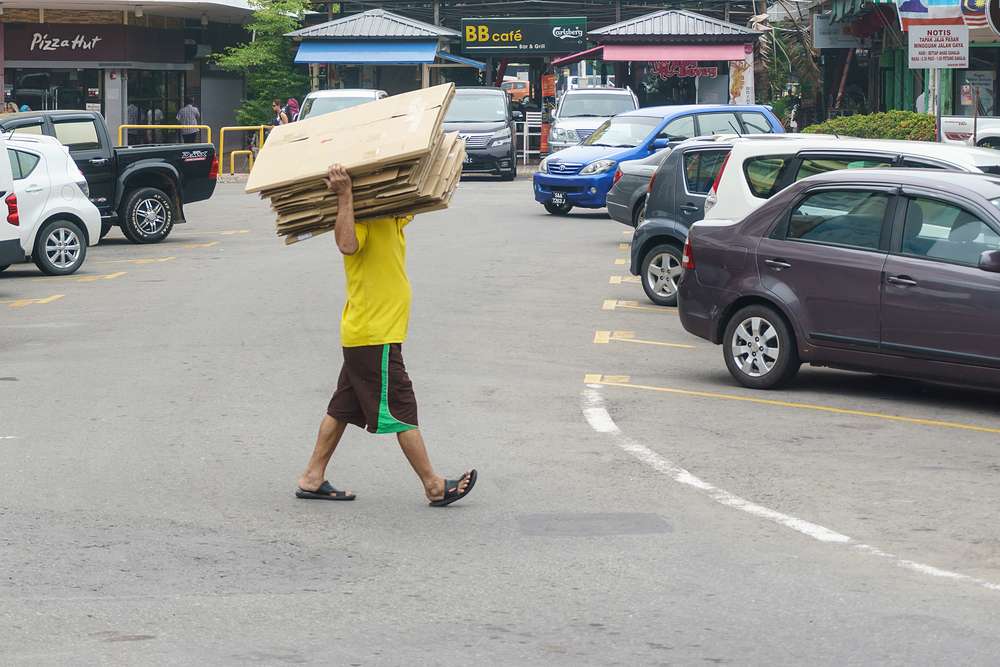 I'm sure many of us know by now that the government has made trash separation mandatory for several states around the country: Johor, Melaka, Negeri Sembilan, Pahang, Kedah, Perlis; and two Federal Territories, Kuala Lumpur and Putrajaya.
I'm quite glad the government is making more of an effort to whip us into shape and get into the recycling game. A household can be fined up to RM1000 for failing to separate their trash. But if you're a little confused about the system, don't worry, we're going to break it down for you here.
Waste categories
There are two main categories of waste; residual and recyclable.
Residual waste:
Kitchen waste
Food waste
Contaminated materials like food wrapper
Disposable diapers
Recyclable waste:
Paper
Plastic
Glass, ceramic
Metal, steel, aluminium cans
Electronic waste, small electronic appliances
Leather, rubber, shoes, fabrics
Hazardous waste like paint thinners, aerosol cans, poison, paint containers
Bulky waste
Garden and farm waste
What you need to do is separate each type of trash into different coloured bags and placed in the right area for collection. For residual waste, it can all be packed into one plastic bag of any colour and placed inside your trash bin.
Colour-coded waste
For residual waste, it should be separated into either green, blue, or white bags and placed
next
to your trash bin. Below is a breakdown of which coloured bag to use for each type of recyclable waste:
Blue:

Paper

White:

Glass, ceramic

Green:

Metal, steel, aluminium cans, e

lectronic waste, small electronic appliances, leather, rubber, shoes, fabrics, hazardous waste like paint thinners, aerosol cans, poison, paint containers
Make sure to use separate bags for each type of waste that requires a green bag. To ease the job for the garbage collectors and other waste handlers, you can also label each bag with a marker so that the collectors know what's in each green bag.
Bulkier waste can be left as is and you can call your local municipal council to organise a pick up for these bulky items. It's best to spread the word to your neighbours as well so that the collection can be done all at once.
Collection schedule
The collection system will be a 2 x 1 collection. This means that residual waste will be collected twice a week while recyclable waste will be collected once a week. If you'd like to know the specific days the garbage collectors will be by your area, you can call the Ministry of Urban Wellbeing, Housing, and Local Government (KPKT) at these numbers:
Kuala Lumpur:

603 2245 9292

Putrajaya:

603 8890 5088

Johor:

607 222 6476

Melaka:

606 283 8953

Negeri Sembilan:

606 763 6030

Pahang:

609 566 3151

Kedah:

604 735 4286

Perlis:

604 976 9834
Here's a handy little
schedule prepared by KPKT
which you can use to record the days. Keep this in a common area in your home so everyone knows when the trash will be collected. Also, you can check the collection schedule on the
Solid Waste And Public Cleansing Management Corporation (SWCorp)website. However, the website is only available in BM, so if you don't understand the language, it's best to call KPKT or get someone to help you with the website.
Malaysia generates more waste than the global average
According to The World Bank's 2013 report on solid waste,
What a Waste: A Global Review of Solid Waste Management
, Malaysia generated 1.52 kg of waste per household each day, which was above the global average. Per day, the country generated 21,918 tonnes of solid waste. Since then, the numbers have only increased.
As of September 2015, there are 163 landfills in Malaysia and only 4 incinerators with a capacity of incinerating 175 tonnes of waste per day. So although this new system may sound a little bit complicated at first, it's one step forward to reducing the number of landfills we have in this country. Once you get into the groove, you won't even think twice about it. After all, we only have one planet, and we really should take care of it.
We need to change our habits
It will take more than just a strict enforcement of policy by authorities to change the way trash is handled here in Malaysia. Recycling is just not part of the culture and many people aren't conscientious about the environment. This can change, though. We need schools and parents to be proactive in enforcing the habit of recycling in children, and we all need to shoulder the responsibility of caring for the planet together.
Your trash, sorted: Malaysia's waste separation system explained - ExpatGo
:
'via Blog this'