Most Dangerous Cities In Asia
Based on the Numbeo databases' composite crime indices, these Asian locales are not very welcoming to foreigners, nor very safe for locals.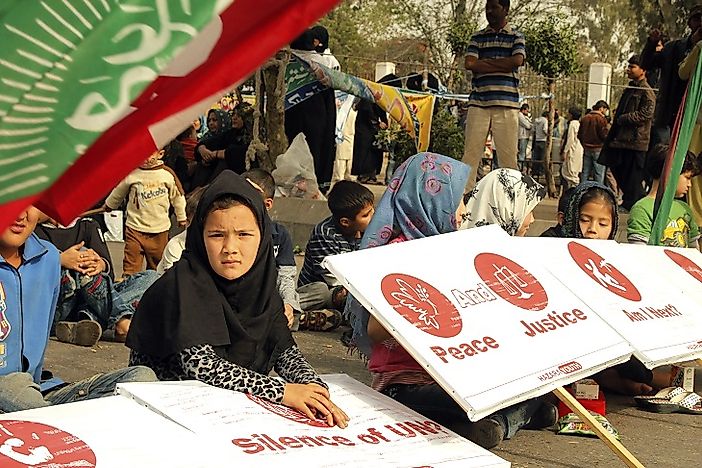 Everywhere one goes to live, travel, or conduct business, one must keep personal safety and security in mind. For such reasons,
Numbeo.com
has create a set of crime indices to compare global cities based on relative levels of crime, safety, law, and order. Their multi-factorial analyses take into account such considerations as people feelings on the level of crime therein, recent changes in crime levels, safety walking alone, fears of muggings or robberies, vehicular security, perceived threat of assault and/or battery, being annoyed, harassed, insulted, or solicited by locals, racial, ethnic, and religious intolerance, and the threat of property theft. Using such Numbeo data, we have discussed what are some of the most dangerous cities to be found today on the Asian continent.
10. Johor Baharu, Malaysia
Johor Baharu, the capital of the Malaysian state of Johor and the country's second largest city, is also a hub of criminal activity, placing it in the top 10 most dangerous cities in Asia. The Chinese newspaper Shin Min Daily News had compiled a list of the top ten crime zones in the city, and these include such places as the Larkin Bus Terminal, infamous for occasional pickpockets, the shopping zones of Taman Johor Jaya and Taman Sentosa, with their cases of snatch thefts by robbers on motorcycles, and even the residential area of Taman Pelangi, which is often associated with frequent reports of car thefts.
9. Quezon City, Philippines
Quezon City is the most populous city of the Philippines, and is a part of Metropolitan Manila, the National Capital Region of the country. The city has one of the highest crime rates in Asia, and is the one of the most crime-prone zones in the National Capital Region. Common cases of crime involve murders of males between the ages of 25 and 50, murders of jobless people and slum dwellers, of those engaged in disputes arising in the city's karaoke bars. Periods between sunset and midnight are believed to be the most dangerous time when frequent killings are most likely to occur. Besides homicide, snatchings, thefts, rapes, and robberies are also reported frequently in Quezon. However, as per recent reports, the crime rate in the city appears to have dropped significantly by 31% from the 27,554 criminal cases lodged in 2014, with 8,501 fewer cases being seen in 2015.
8. Manila, Philippines
Manila in the Philippines is a popular tourist destination, but the city also has a moderately high rate of violent crimes, and these are often targeted at its tourists. Mostly local criminal gangs, and, less frequently, individual hoodlums, are involved in the incidents of violent robbery and assaults in the city. The widespread and improperly monitored firearms ownership conditions in the city only add fuel to fire, increasing the cases of crime. Random acts of violence, kidnapping of foreigners, streets fights, and violent crimes triggered by excessive alcohol consumption are quite common in this city. Tourists to Manila are always advised to remain alert and be careful of their drinks to avoid cases of 'drink spiking', which involves the use of drugs in drinks to leave a person unconscious before looting or physically harming the incapacitated victim.
7. Ulaan Baatar, Mongolia
The capital city of Mongolia, Ulaan Baatar, has very high crime rates. While crime in Mongolia rose by 15% in 2013, in Ulaan Baatar the rise was 19%. The largest rise of 37% was observed in those cases involving theft. Assaults and rapes were the other categories of major reported crime cases, exhibiting a rise by 19% and 17% each, respectively. Earlier, crimes against foreigners primarily involved cases of pick-pocketing and theft of unattended property, and were generally non-confrontational in nature. However, the growth of a small nationalist movement in Mongolia, fearing the exploitation of Mongolians and the country's natural resources by foreign enterprises, has led to an increase in physical assaults against foreigners in Ulaan Baatar.
6. Dhaka, Bangladesh
The capital city of Bangladesh, Dhaka, has one of the highest crime rates in the world. The city frequently suffers from violent crime attacks, including cases of political and religious violence. Poverty, a wide socio-economic gap among the citizens, and the increasingly high population pressures are all partially held responsible for the high crime rates in the city. The presence of an ill-equipped police force has often forced the government to deploy the army and paramilitary forces to handle large-scale crime situations in Dhaka. Criminal cases there commonly involve robbery and dacoity (banditry), poverty- and hunger-induced violence, rapes and kidnappings, murders, land grabbing and associated violence, illicit trafficking in of women and children, and the illegal possession of firearms and drugs.
5. Klang, Malaysia
Klang is a Malaysian city located 32 kilometers to the west of Kuala Lumpur, and 6 kilometers east of Port Klang. There are a large number of criminal gangs reported to be operating in Klang today, with violent clashes among these gangs being quite frequent. Many of these gangs are operated by the Chinese and Indian peoples in Malaysia. Due to economic developments in the region and changes in industrial policies, a large number of Indian workers were displaced from the rubber plantations in the region, leading to the rise of gangster activities among these economically deprived workers. It is believed that these gangsters originally worked for Chinese gang leaders operating in the region, though many currently run their own Indian gangs in the city.
4. Gurgaon, India
Gurgaon, in India, is infamous for its notorious crimes. As per January 2015 figures, the number of vehicle thefts and robberies rose from 247 and 11, in December of 2014, to 286 and 17, in January of 2015, respectively. However, it is not only the numbers of the crimes there that are so shocking, but also the nature with which they are carried out. 10 robberies in January of 2015 involved armed miscreants who created panic among the peaceful residents in the city. The safety levels of women in the city is also quite pathetic. With frequent reported cases of brutal rapes, reaching home safely is a daily challenge for the women in Gurgaon. Many cases of female harassment, and even molestation in the open streets of the city, are reported each month. Burglary and snatching cases are also on the rise in Gurgaon.
3. Petaling Jaya, Malaysia
Petaling Jaya is an important Malaysian City located in the Petaling district of Selangor. Though initially it was developed as a satellite township, it was recognized as a city of its own in 2006. The dense population of the city, the large and thriving business community, and a greater number of 'floating communities' than seen in other areas are probably all partly responsible for attracting criminals to this city. Besides cases of robberies, thefts, and murders, violent gang wars are also common in Petaling Jaya.
2. Kuala Lumpur, Malaysia
Kuala Lumpur, Malaysia's capital, is a heavily populated city with millions of tourists and businessmen visiting the city each year. Kuala Lumpur suffers from high crime rates as well, and is considered as the second most dangerous city in Asia. An large number of crimes affecting foreigners are also reported in the city. Snatch thefts by thugs on foot or on motorbikes are pretty common in the streets of Kuala Lumpur. Taxis in the city are also infamous for their notorious ambiguity, and these often fool unsuspecting tourists into paying more than they thought. Pickpockets and scam artists flood the streets of Kuala Lumpur daily, grabbing every opportunity to loot a tourist or a local. Besides these petty crimes, serious crimes involving physical violence, murder, rapes, and robberies are also commonly reported in the city.
1. Karachi, Pakistan
Karachi is the largest city in Pakistan, and also the country's largest seaport and financial hub. Karachi has become quite infamous for its skyrocketing crime rates. A high threat from terrorism and sectarian violence prevails in the city. In the most recent years, Karachi has witnessed terrible crime scenarios involving gang shootings, political violence, and even suicide bombings. The murder rate in the city is around 12.3 per 100,000 residents. The 'target killers' of the city, motorbike riding assassins, are, in particular, responsible for a large number of the targeted killings seen there involving police, businessmen, political opponents, and everyday protesters alike. For the residents of Karachi, crime appears to have become a part of daily life. In 2013, around 2,700 people were murdered in the city. A frightening wave of insecurity exists in the city, with the wealthy keeping armed guards at homes, and even the bakeries and other soft targets in elite districts have installed metal detectors.
Most Dangerous Cities In Asia - WorldAtlas.com
:
'via Blog this'