Batu Caves may be popularly known due to the crowds that flock there during the annual festival of Thaipusam, but there is much more to this limestone hill that appeals year-round to tourists and locals alike. Taking its name from the Batu (meaning stone) River which flows past the hill as well as the nearby village of Batu Caves, this series of cave temples is one of the most popular Hindu shrines in Asia.
The temple is dedicated to Lord Murugan, a Hindu deity, which is evident from the enormous and impossible-to-miss statue erected outside. The world's tallest statue of Murugan stands at 43 metres, made of 1550 cubic metres of concrete, 250 tonnes of steel, and 300 litres of gold paint. It took around three years to fully complete.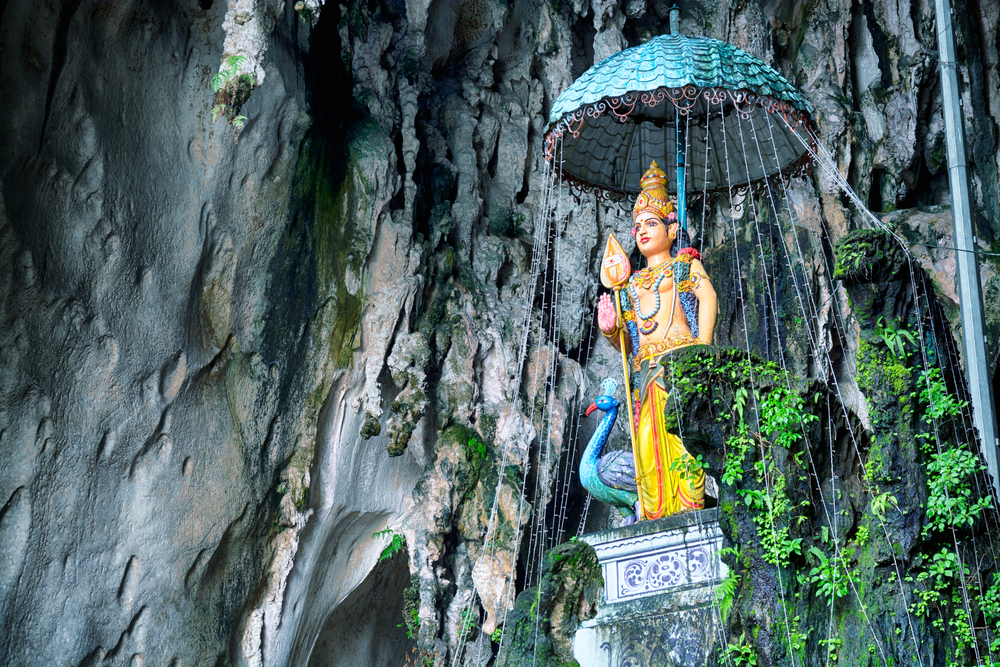 Located just outside the city of Kuala Lumpur in Gombak, Selangor, Batu Caves was first promoted as a temple by an Indian trader in the late 1800s. K. Thamboosamy Pillai was said to be inspired by the vel-shaped entrance of the main cave, leading to the decision to dedicate a temple to Lord Murugan within the caves. The vel is a spear that is a symbol of divinity in the Hindu culture, which is why some devotees spear their cheeks, skin, and tongue with vel skewers during their procession during Thaipusam.
The festival has been
celebrated at Batu Caves every year since 1892.
Batu Caves consists of three main caves with a few smaller caves. The Temple Cave, also known as Cathedral Cave, is the largest, and in order to reach it, visitors must climb a steep flight of 272 steps. Once you've completed the journey, you will enter a series of temple caves and shrines. There are beverages, snacks, and trinkets sold there as well. It's relaxing and relatively cool up there, so if you're in decent shape and physically able, it's well worth the climb.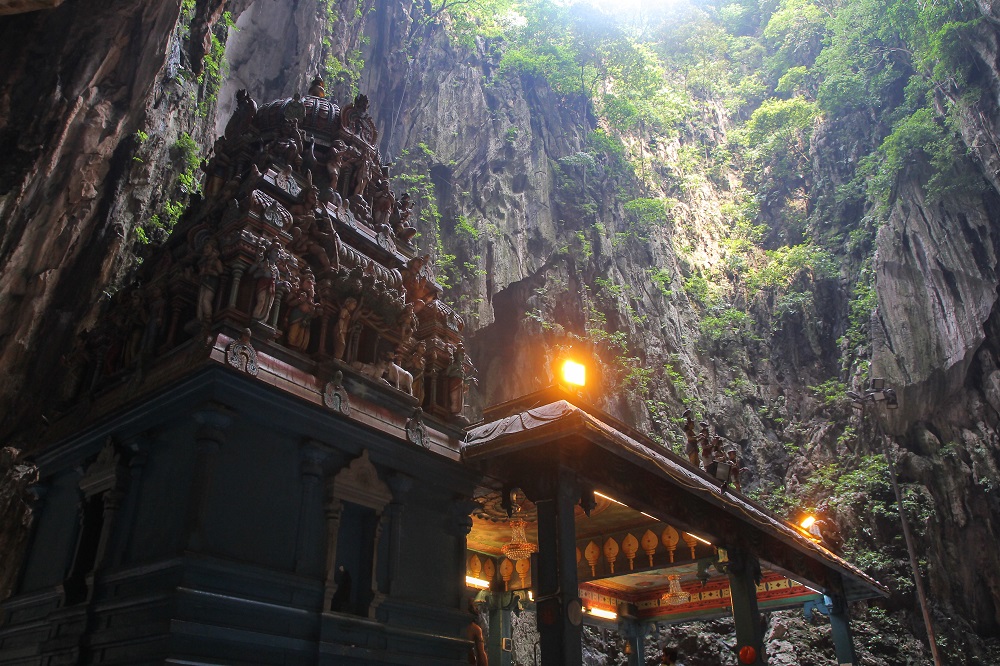 At the base of the hill are the Art Gallery Cave and Cave Villa which are full of Hindu statues and paintings. There is also the recently cave which depicts the classic Indian epic story of Ramayana; this requires an entrance fee.
The limestone hill with its mysterious caves are also a natural wonder to the many visitors who flock there, regardless of whether or not they observe the Hindu religion. There are many caves yet to be developed which contain a range of cave flora and fauna which include unique species of spiders and bats.
It is also popularly known for the numerous monkeys, specifically macaques. Visitors are often warned to keep their snacks out of sight as these monkeys are not afraid to help themselves to the treats! They can also be territorial, so keep little children safe and out of the way. Generally though, as long as you don't bother them, the monkeys mind their own business.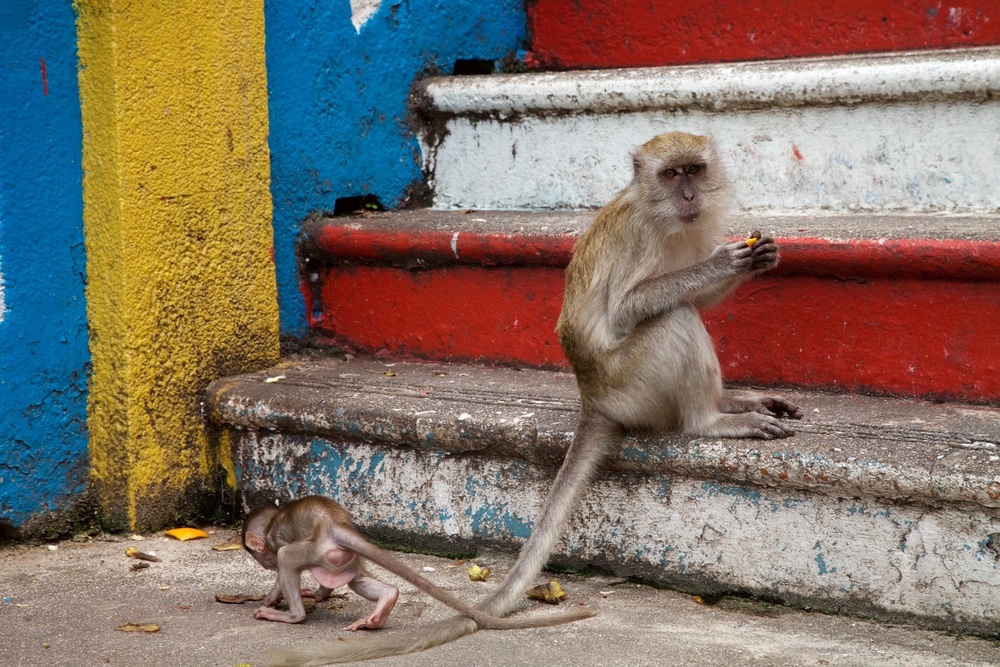 The Dark Caves which can only be accessed through the Malaysian Nature Society's regularly organised educational and adventure trips is also something special, with rock formations and animals found nowhere else. The two-kilometer network of mainly untouched caverns consists of intricate stalactites and stalagmites which took thousands of years to form.
For the adventurous, rock climbing is also popular at Batu Caves through private groups and companies. It offers more than 160 climbing routes, scattered all around the side of the hills. Some local adventure companies also offer abseiling and spelunking.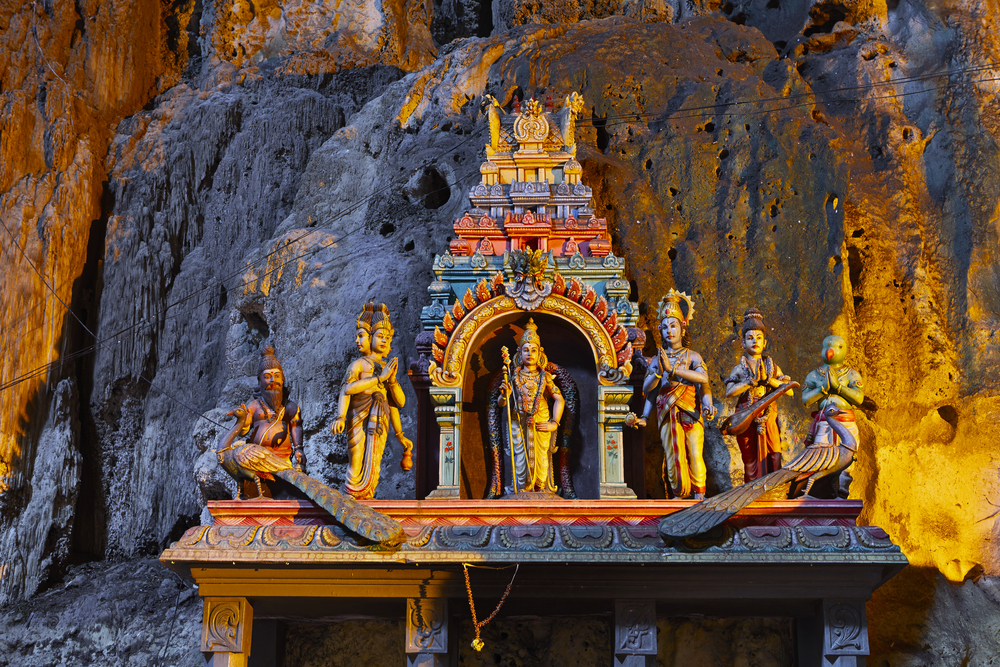 While a dress code is not strictly enforced, it is nevertheless advisable to wear appropriate and non-revealing clothing when visiting the temple. You may also be required to remove your shoes at certain areas. There is no entrance fee for most of the main caves, but you can make a small donation if you wish. Around the caves are a few restaurants serving up traditional Indian food where you can grab a snack or meal.
If you're looking for something different to do on the weekends or days off, visit Batu Caves for a brief respite from the city, and immerse yourself in this awe-inspiring cultural shrine – to both nature and Hinduism!
This article was originally published in The Expat Magazine (March 2016) which is available in online orin print via a free subscription.
Discover the wonders of Batu Caves - ExpatGo
:
'via Blog this'